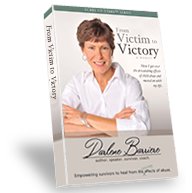 From Victim to Victory
a memoir
How I got over the devastating effects of child abuse and moved on with my life
---
Do you want to be notified of future healing workshops by Darlene Barriere?


---

Danielle
Indiana, USA
I am so glad that someone is making this cause well known and hoping to help these abused people. I really enjoyed reading the survivors stories even though it was really sad it was also very inspiring. It inspired me to help out and report any abuse that I see. I worked at a daycare and I saw some bruises on a little girl and they were not like oh I fell kind of bruises they were bruises from someones fist. I reported it and she was taken out of that home and now she is in a loving family that loves her. I found a song that relates to child abuse and it is concrete angel by Martina Mcbride if you wanted to add music to your blog. I just want to say thank you for making this blog and that your really are making a difference by informing us on child abuse and a lot more abuse thats out there. God bless
---

Michelle
Missouri, USA
I am so opened up about what happened to me, to see I am not alone with my pain, anxiety, anger, rage, wanting to heal that there are others out there that maybe we all can help and get some help from each other. I really want to thank you Darlene for having the strength to let others know what happened to you so they would open up too. GOD BLESS YOU and everyone who has spoken the secret to let it flow out and into GOD'S hands.
---

Joyce
Washington, USA
I am doing a project on child abuse for school and I learned a lot from this site.
---

Christine
California, USA
Thank you so much for creating this website. I came across it recently when I was researching child abuse. It helped me a lot when it came to looking at the victim's point of view. I hope your book goes well and helps to fight against child abuse...
Thanks again!
---

Mutina
Chicago, USA
I'm really glad people are willing to share their stories because it helps people who are scared to come out in the open. I'm doing a project and this really helps.
---

Kennesaw
Georgia, USA
A note on Darlene. When you start something like this and you're a believer and survivor, things get pretty crazy quickly. Some of us just naturally write and speak better than others. Please know that Darlene wants very much to make comments about all comments made here. I don't know her, but know it's true. We will never stamp out child abuse, but once you start to try, it becomes your life. I speak, I write, I make very little money, but I make a difference. If you struggle every day with your past. Write it down, no matter how badly you write, drag it from your soul. Every time you do this you dispel some of the power it holds on you. Even if you burn it the next day you'll feel better. Know this, if you want to stop child abuse you must heal yourself enough to fight the fight. That in itself should give you the incentive to become the adult you were meant to be, before someone cheated you out of it.
---

Melissa
New York, USA
I tripped upon this site and can say that it relieves me to know that such a site exists. I have endured horrifying abuse myself and find it very motivating to share my story here. Thank you so much for letting us be heard.
---

Maurice
Ireland
Darlene:
You think of everything that matters to the visitor to your site that builds up a trust that telling one's story is confidential between you and your visitors who empathise with all forms of abuse suffered. The comments are from the heart, ever so naturally shared back to the teller of the story. I feel so safe at sharing my story and my comments because of your understanding and love for each one. Your stewardship of the site is consoling and noticeably acknowledged as coming from a very caring/loving woman. Your own story gives me great hope in your site being a stepping stone for the abused to move up the ladder of their own life while letting go of the ladder of those who abused them. Thank you.
---

Simone
New Zealand
Some people think it's ok to do child abuse but it's not. To them they think it's a game. Do you really think that having a child is worth it when you're just going to abuse them just because you're the parent of the child and that you brought them into this world? It doesn't make it ok for you to abuse the children just because you're in a bad mood or if the kid has made you mad and aggressive or something like that.
So if you're in child abuse, don't keep it a secret. Tell someone.
---

Jacky
New York, USA
I'm doing a report on child abuse, so this helps. Thanks. ;] Very sad stuff. Makes me thankful for what I have.
---

Jessica
Illinois, USA
This is 1 emotional site. The stories that I read were sad stories. Now I know not 2 complain about the little things I always complain about because some people have way more 2 complain about.
---

Chanelle
London, England
Dear Darlene,
I posted my feelings on your site, regarding the emotional as well as physical abuse that I have endured through out my almost twenty one years. I liked your site, because it was informative, helpful, authentic and realistic. Most of all, it has a broad range of areas.
You seem like you are the kind of person that is vibrant and has a warm and intuitive presence. May G-d bless you and bestow you with healing and the continued ability to heal others. May G-d heal all those and comfort and wipe away the visible and invisible pain of any adult, child or infant enduring any kind of pain.
Take care.
---