Relationship Violence Stories


Talk Before Touching

®

Series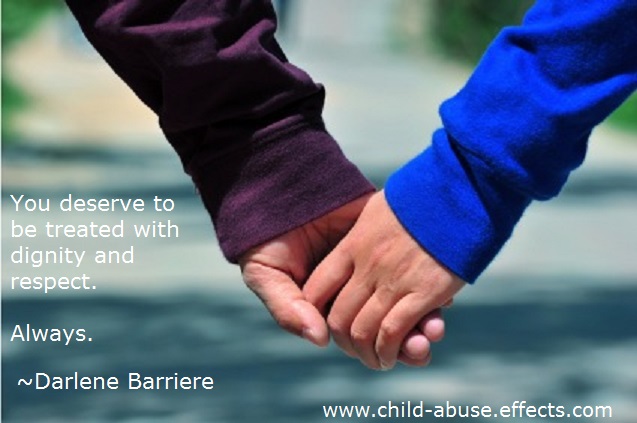 Relationship violence stories is for people who are ready to share the experience they had with an abusive partner.
Perhaps you've never before disclosed what happened to you.
Perhaps you're afraid that someone might not believe you.
Or perhaps you're concerned someone will say something inappropriate, so you stay quiet. (Please don't worry about this. I screen ALL comments for appropriateness before they go live on the site.)

If you've been involved in a violent intimate partnership, whether it's heterosexual, gay, or lesbian, write what happened and I'll publish your story. You may find it cathartic and you'll be helping others who may also have gone through the same thing, others who believe they're alone in what they went through.

On this site, you will be believed. On this site, inappropriate comments will always be deleted. They will never see the light of day.

Rest assured, this site is a safe haven.
What is relationship violence?

Relationship (or dating) violence is defined as the emotional, physical and/or sexual assault of one partner by the other in a dating relationship where the couple is not living together. Couples include:
Male/Female

Female/Female

Male/Male
Some dating violence statistics:




Almost 4 of every 10 females and 1 of every 3 males report being violent at some point in their dating careers.
More than 1/4 of victims and 3 of 10 offenders see violence in a dating relationship as a sign of love.
The average age of the first violent relationship experience is 15 years.
In Canada, 1 woman every 6 minutes is sexually assaulted.
30% of female murder victims are killed by their intimate partners.
Are you a survivor of dating violence or some other form of intimate partner violence?
Has your partner ever assaulted you:

        •  physically
        •  sexually
        •  emotionally

Have you been too afraid to speak up about the abuse you've suffered through at the hands of your partner?

Have you been told that the abuse you suffered through "was your fault?" It WASN'T your fault!







If you've answered 'yes' to any of the above questions, this is the place to tell your story. If you're ready. Telling what happened to you could help someone else in the same situation, or even better, it could stop someone from getting into the same situation!
Be among those who have courageously shared their dating violence stories. The process is easy and offers notification options when someone comments on your story.
Now it's your turn to share your relationship violence stories...
---
Share your Relationship Violence Stories - Talk Before Touching® Series - here!
Don't keep it to yourself. Share your relationship violence story for the Talk Before Touching® Series, and have it published here.
Other Relationship Violence Stories on this Site:
Check out published stories of Relationship Violence - Talk Before Touching® Series - from other visitors to this page...

---
References
NOTE: Information pages on this site were based on material from the

Canadian Red CrossRespectED Training Program. Written permission was obtained to use their copyrighted material on this site.
Back to Child Abuse Effects Homepage from Relationship Violence Stories
Updated Feb 18, 2017