The Lighter Side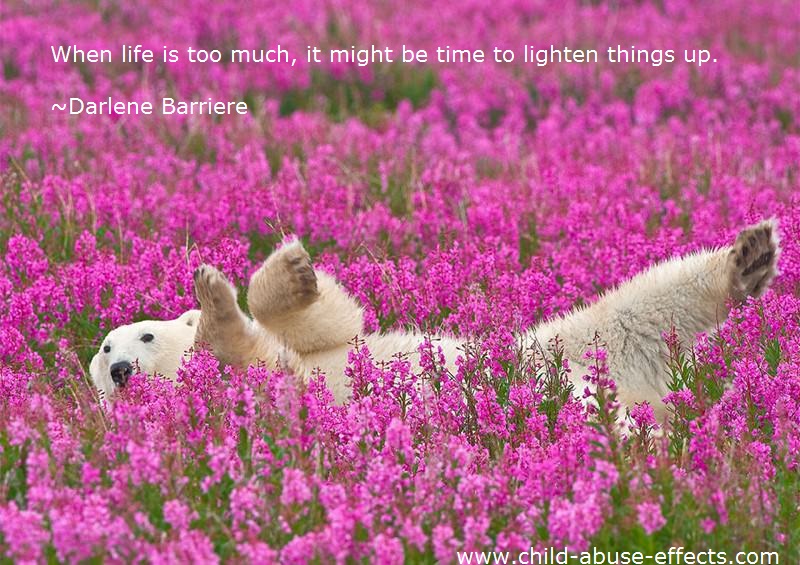 "The lighter side" is intended to help my visitors, as well as to help me as webmaster, publisher of the stories here, as well as commenter. Please trust me when I say that this page is indeed following my philosophy to educate and improve the lives of my visitors.
You see, there are days when I am so inundated with articles, headlines and images of child abuse that I find myself in a funk, in a dark place, a place that I really don't want to be. On these days, even my workouts, yoga or meditation aren't quite enough to give me the release I need in order to gain perspective and balance.
| | |
| --- | --- |
| On these darker days, I find it necessary to find another outlet; which got me thinking: My visitors must be in that same dark place, especially after reading some of the more difficult-to-comprehend child abuse stories. | |
And if my visitors are in a funk, what can I do to ease things up for them? What can I do to help put a smile on their faces?
I decided to create a page that is dedicated to sharing what people do to find calmness and yes, humour, in their lives.

Below is an example of what I've done to help myself de-stress from the darkness that can so easily take hold.
The Lighter Side

by Darlene Barriere
(Kamloops, British Columbia, Canada)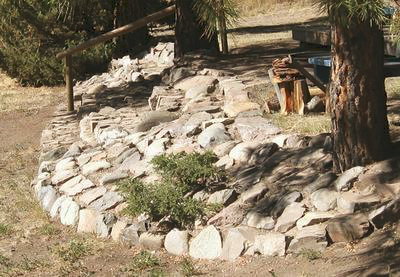 Rocks of Relaxation

Yesiree bob, I found, puzzled together and lovingly placed every single stone, rock and boulder you see in this retaining wall.
What exactly do rocks have to do with de-stressing? Let me assure you, I don't have rocks in my head.
On any given day, I read countless child abuse stories, headlines, articles, and essays. I review child abuse forums, answer child abuse related questions, and I write several child abuse articles a week.
I've made child abuse an integral part of my life; and while I wouldn't change that for the world, every now and again I find myself thrown into a bit of a funk because of it.
Last summer, I was dealing with a multitude of changes on my website that I needed to de-stress about.
I decided to take on the rockery as a project, as a way to step away from the challenges I was facing.
I planned the retaining wall, found each and every rock at various spots along the lakefront road, I hauled them one by one to the back of our truck, loaded them up, then carefully drove them to our campsite.

I then un-loaded each rock, sorted them by size and shape, and then puzzled them in a workable order. I shoveled away weeds, grass and dirt, after which I physically dropped every rock into place and back-filled with more dirt, grunting whenever the need arose.
As laborious as the project was, I found that when I worked on the rockery, I was taken completely away from any other thoughts. No troubles. No worries. No strength left to ponder. It was then I realized . . . rocks rock!
I know I'm not alone in my need to lighten the load when life takes control of my senses. I'm sure that every one of you has an activity you use to relieve the stress in your life.
You've just read one of mine.
Now it's your turn to write from the lighter side!
How do you relieve the stress in your life?
We all want to know!--share here!
We all need to lighten the load every now and again. Tell us how you find the lighter side. And don't forget to include photographs. They are gleefully accepted in this category.
The Lighter Side Contributions on this Site:
Check out the lighter side submissions on this page...

---
References
NOTE: Information pages on this site were based on material from the

Canadian Red CrossRespectED Training Program. Written permission was obtained to use their copyrighted material on this site.
Back to Child Abuse Effects Homepage from Lighter Side
Updated Feb 18, 2017