Healing and Fun with Gingerbread
by Darlene Barriere - webmaster
(Kamloops, British Columbia, Canada)
Can building and decorating a gingerbread house be a relaxing and healing experience? Yes yes yes . . . ABSOLUTELY!

We all live busy lives. Our hustle 'n bustle lifestyles have made gingerbread house creations a lost tradition. I'd like you to bring back that Christmas tradition, and have FUN with it.

Christmas, and the weeks before it, should be a time spent with family, incorporating traditions and treasuring special moments. It shouldn't be a time for hassle, anxiety and depression. Bring back the tradition to your holiday season by building and decorating a gingerbread house. It's so much fun! It really is! And not just for your children or grandchildren. You'll love it too! That includes dads and granddads, not just moms and grandmoms!

And before you say, who's got the time to go through all that work at such a busy time of year? Costco sells a complete kit for $10 (Canadian). You can't beat that price. I used the Costco store-bought kit for the house I built for this page. The kit included all the cut pieces, the icing and the candy for the house—of course, I added to the candy heap—and the instructions were oh so easy to follow.

In the space of an afternoon, you can produce a unique piece of art to display for the season, AND bond with your kids and/or grandkids, all at the same time!

Oh, and if you don't have either children or grandchildren, don't let that stop you. Donate your decorated house to a neighbour you know, one who has children. Their eyes will positively light up when they see you walk through the door carrying a house laden with candy!

Better yet, consider inviting your neighbour and the children to join you in decorating a house. I've done this several years in a row with a friend and her two girls; it's now a tradition that puts us all in the Christmas spirit. If that idea doesn't work for you, donate the house. I donate a house each year to a local women's shelter, a shelter than at any given time has lonely, upset and needy children. The joy these all-too-often-abused children experience is worth every moment of time I spend baking and rolling dough, cutting and crisping individual pieces of cooked gingerbread, then erecting and decorating what is a masterpiece each and every time.

Okay . . . enough with the chat. Time for some fun, excitement and yes, healing with gingerbread and candy: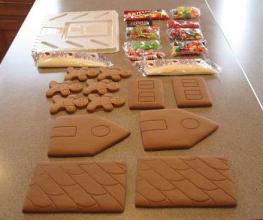 Kits are the ultimate time-saver! What you see in this photo was included in the Costco kit I purchased and used when creating the house for this page. It has everything you need. Except maybe enough candy . . .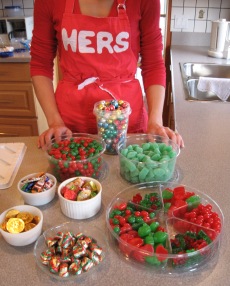 Gingerbread houses need LOTS of candy, in a variety of shapes and colours. While store-bought kits are great time-savers, they seldom have enough candy, especially when you consider that "mutant" candy—candy that is misshapen or otherwise crushed or chipped—must be eaten! Toothbrushes and toothpaste are perhaps additional items required.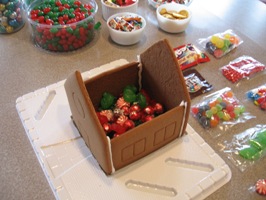 Don't forget to put candy IN the house before you attach the roof. This is such a special treat when you donate the house, because the children do not expect the added goodies. Oh, and remember the limited attention span of children. If your children are very young, consider putting the house together the night before, while they're in bed. Then by all means, include extra treats inside the house for an added surprise.








While we wait for the icing "glue" to dry . . .
Did you know? New Year's Day is traditionally the day for breaking the house. Use a hammer. Yes, you read correctly. Using a hammer on the house is the symbolic way of saying goodbye to the old year and breaking-in the new. The candy "landscaping" is meant for little hands during the holiday season, but teach them to preserve the house until January 1st. My friend went out and purchased two small hammers, one for each of her daughters, in order to observe this tradition. For this family, New Year's Day is almost like Christmas Day. So don't forget to pass along this delightful custom.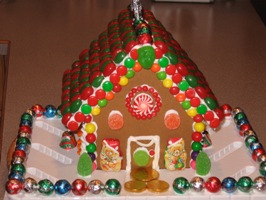 Trim the house with candy art. Sure the house looks fantastic at this stage, but you're not quite done yet. Your house needs something more to give it that Christmas feel. Dust the house with sifted icing sugar to add the wintery scene of "freshly fallen snow."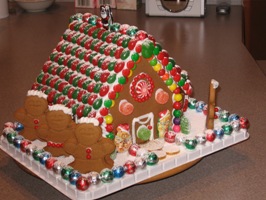 Bragging rights . . . proudly show it off!
Tip: If you want to use as many candies for the roof as I have AND you're using the icing included with the kit (as opposed to your own royal icing recipe, which dries rock hard) allow your assembled house to dry for several hours before weighing it down with loads of candy. I recommend overnight if at all possible. You don't want the roof to slip off during the highly anticipated decorating session. On the other hand, if that DOES happen, go with the flow. Remember, the goal here is to have fun and let the kids have fun. If they want to decorate each side of the roof differently, let them. Anything goes. And if a disaster does occur, laugh it off, consider it a de-construction zone, and carry on. Some of the most entertaining times I've had with gingerbread houses were the projects that turned into more of a gingerbread house renovation!

I hope you'll consider incorporating this delightful, charming and delicious tradition in your home for years to come. Doing so really can be therapeutic. Gingerbread and candy have had tremendous healing properties for me.

If you DO build and decorate a house or other Christmas creation this year, send me a photo through my lighter side page. I'd love to post it! And yes, I'll even post gingerbread disasters, especially when the photo is accompanied with an amusing story.