Child Abuse Story of Healing and Recovery From Paul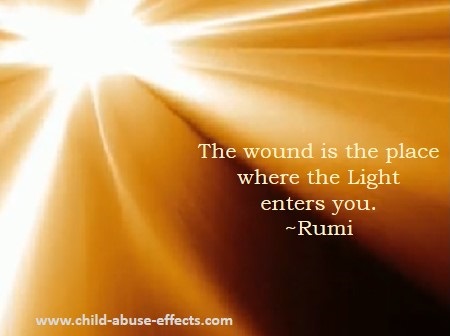 This child abuse story of healing and recovery from Paul page was created February 14, 2007 and was originally posted on December 30, 2006 as story #5.

Paul is from Eugene, Oregon, USA

The following child abuse story of healing and recovery from Paul provides a link that reflects his efforts as an advocate to stop child abuse.
Child Abuse Story of Healing and Recovery
From Paul:

I have been on the computer for over 15 years. Five of those years are lost because I have been in and out of the hospital because of an illness with MS. Multiple Sclerosis has taken away some of my vision, from the waist down to my feet are in numbness way. And now I can't write with my left hand and had to learn to use my left hand. It's an ugly illness.

You can use my story in anyway you wish to. Many have seen my story and my photos. Photos at http://www.efn.org/~scan/paulstry.html help tell of the works I have been doing since the year of 1975 on the issue of child abuse and now MS.

I have seen many web pages from those who somehow survived from some form of childhood abuse, but they never show the works they do or who they are. Maybe, many of these survivors are afraid to show who they are or the kind of works they do because they are afraid of their abuser.

My true life childhood sufferings and my works are to try to help children who are or were being abused. I have talked to many of these children and they somehow became adults to do the gangs, drugs, alcohol, and disrespect their own parents who had abused them. Many of these children also REPEAT the same behavior onto their own children. My heart hurts and aches when I hear of such behavior.

I do not have children of my own, because I can't produce them. However, I have traveled over 20,000 miles across the U.S. with open forums, speeches, fundraising for abused children. The radio talk programs have somehow helped to cure me from my childhood life. Some adults laugh at me or cuss at me or make phone calls to me and cuss at me because of the work I have done for abused children. But, I do the best I can do.

My story has been in many magazines and newspapers because of the person I am, and because of helping abused children. I hope you can use some of my web pages to educate children and adults of the works I have done and the parts of my family.

I want to thank you for the incredible web pages you have. I have to hire people to make my web pages for me. I'm a slow learner and I can only do certain kinds of knowledge.
Subscribe to Darlene Barriere's healing blog:

My goal is to inspire you, challenge your thoughts, and break open your heart. Your Self already knows you're remarkable and that the world needs you, more now than ever. It's time you know it and believe it too.
Healing the Body, Mind and Spirit
< back
---
References
NOTE: Information pages on this site were based on material from the


Canadian Red Cross RespectED Training Program. Written permission was obtained to use their copyrighted material on this site.
Homepage from Child Abuse Story of Healing and Recovery from Paul
Child abuse story of healing and recovery from Paul was re-formatted            June 15, 2015