Child Abuse Story From
Bob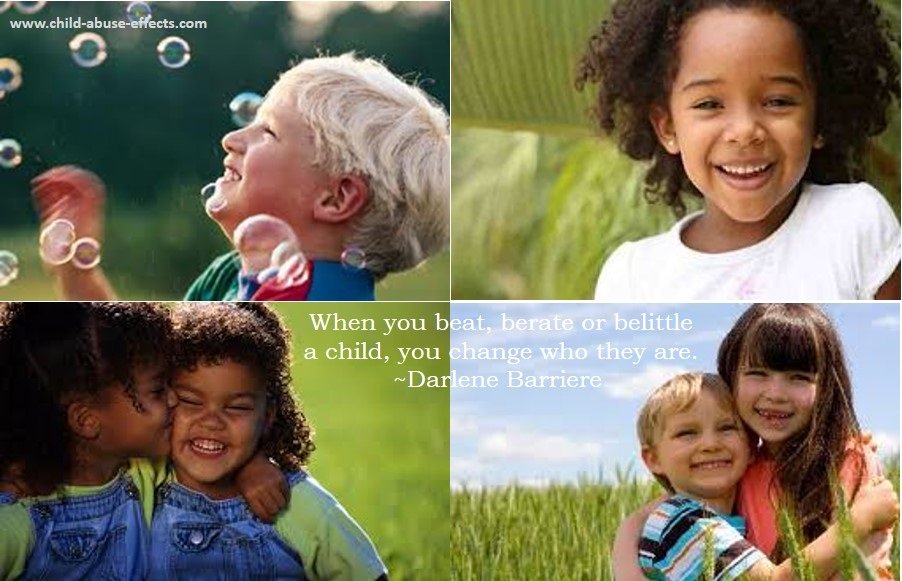 Child abuse story from Bob was created January 31, 2007 and was originally posted to my child abuse stories page on January 14, 2007 as story #62. Bob is from Atlanta, Georgia, USA.
Child abuse story from Bob depicts physical abuse, sexual abuse and emotional abuse.

The child abuse effects on Bob: feelings of worthlessness and hopelessness, no sense of belonging and suicidal thoughts.

Child Abuse Story From Bob:
I was adopted at 5 months. My adopting parents were a sea captain, and an Italian woman.

My adopted mother wanted a child, but was unable to have any.

Due to her age, she went to the Black Market and got a child. That child lived to age 3, when it died from drowning.

A year later I was adopted again through that same Black Market operation. That stepmother lived till I was 3.

When I was 5, my father re-married to a woman that didn't want me. My father didn't want me either.

When I was 7, I found out I was adopted and no relation to the family in which I was living. In a single conversation, I lost my bonding and security. I was simply a child no one wanted, living as an outsider.

Every form of abuse was used. There was work that I needed to do every day and if it wasn't done, there were consequences.

I was beaten while I was sleeping, starved, and sometimes beaten so badly I couldn't go to school. There was yelling and I was made to feel stupid and humiliated. No one cared. It was a matter of satisfying and taking care of adults. There were always adult standards that had to be met. I had no idea what those were, and yet I was required to meet them.

When I was 8, I was raped. I never told anyone. I just thought about dying a lot of the time.

When I was 9, I knew I had become a slave and a people pleaser. There was no hope for me. There was no way to become a member of society. I was without any form of merit. As long as I lived I would remain an outsider . . . always DIFFERENT FROM other people.

Almost every day I asked the same question: If I died tomorrow, would it matter, and who would care?

When I was 10, my 2nd stepmother sent guys to sleep with me. They molested me, and when I complained, she told me I was dreaming.

At age 15, my adopted mother and 2 brothers moved to the Midwest so my mother could go to graduate school. It was my responsibility to take care of her and my 2 brothers. There were all the household requirements, as well as going to school.

At night I was loaned out to do industrial cleaning of retail stores. I nearly failed out of high school.

Additionally, the Midwest winters were severe, and when water pipes froze, it was a requirement to lie in the snow banks against the house and thaw out pipes. Slowly freezing is painless except in your joints, when you move. As I lay there, often I thought about lying still and in a few minutes it would end. If I froze, would it matter?

I was also loaned out to a family friend who molested me from age 15-17. There was simply no hope.

When I was 19, I went into the Navy. There I learned that I was not stupid. I could make valid contributions to other people.

My story is very long and convoluted. And now, even though I am 70, it is still a painful remembrance.

Life during that period didn't have to unfold as a horror show, it just did.

Subscribe to Darlene Barriere's healing blog:

My goal is to inspire you, challenge your thoughts, and break open your heart. Your Self already knows you're remarkable and that the world needs you, more now than ever. It's time you know it and believe it too.
Healing the Body, Mind and Spirit
<< back
---
References
NOTE: Information pages on this site were based on material from the

Canadian Red Cross RespectED Training Program. Written permission was obtained to use their copyrighted material on this site.
Back to Child Abuse Effects Homepage from Child Abuse Story from Bob
Child abuse story from Bob was re-formatted April 8, 2014