Child Abuse Story From
Barbara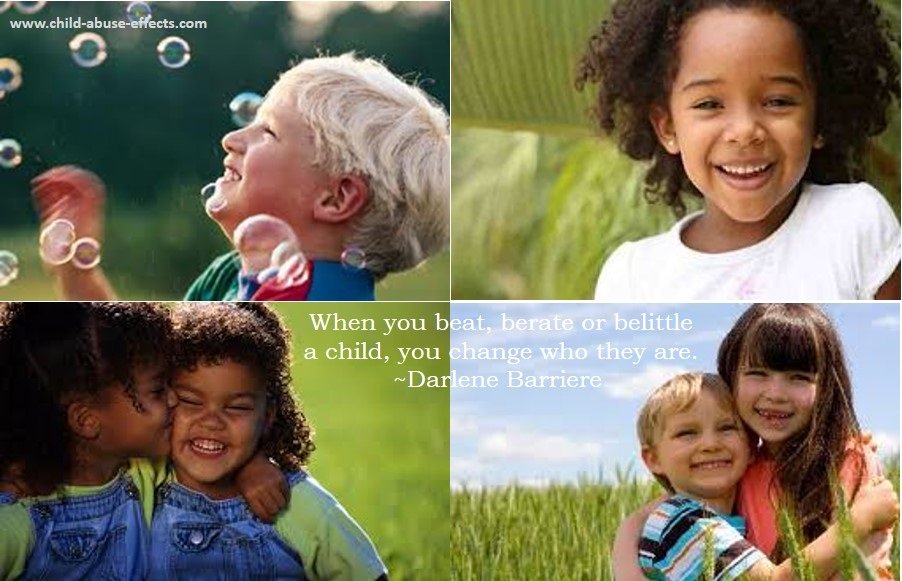 Child abuse story from Barbara was created November 30, 2006 and was originally posted to my child abuse stories page on November 17, 2006 as story #48. Barbara is from Placerville, California, USA.
Child abuse story from Barbara depicts extreme physical abuse, sexual abuse and emotional abuse.

The child abuse effects on Barbara: self-blame, low self-esteem, and she dropped out of school. Barbara's father frequently beat her to the point of black eyes, broken fingers and a bloody nose. Her father was also her molester.

Child Abuse Story From Barbara:
Well, where to begin. It started when I was very young. My father used to hit me with a leather belt for everything. I remember kindergarten to grade 5. I was sent to the office to talk to the nurse and asked, "What are those on your arms?"

"Mosquito bites," I said.

My father would hit me everywhere--legs, back, arms, whatever he could get hold. My mother would do nothing. Just watch. Not only did I have to deal with this, I had kids making fun of me too.

When I hit the 4th grade, that is when it became my worst nightmare. I still live it today. My dad started to touch me. All he ever would say is, "It's ok. Do not tell anyone."

I do not why I did not make that stop then. It didn't stop there. Everyday was a beating. From not cleaning, to not taking his socks and shoes off. He had thrown away the belt and went into using hands and feet on me.

By 5th grade, my mom's boss started in by touching me. Now in my head, I was afraid to say anything again. He had continued the abuse until I was 16 years old. I'd had enough, and I would not go over there to work with her anymore. The funny part is that I did tell her about this and she told me, "All men don't want you. Stop lying."
Meanwhile, my father is still beating me down every day. No break in sight. I wonder what I did do to be treated like this? I still haven't found that answer.

Into 6th grade . . . should be a great year . . . NO . . . . I went to my check-up. I started developing early and again it happens to me. WHY WHY WHY does this keep happening to me? What did I do wrong?

I get to look back on this and see some justice because he my father abused others and was caught. Once again my mother did not believe me, even then. At that point I had given up hope in ever be a normal kid. I tried to be strong, but nothing I did seemed to be good or right. I started lying to see if that would help. It did for awhile. Having a sister, I thought I would be safe. I wasn't. She used to wait until Dad came home to tell him lies, knowing that I was going to get a beat down. Years I had to deal with him punching, kicking, hitting me in the face. Everything to me.

One day I woke up and I fought back. He beat me so bad that day. Black eyes, broken fingers, and coughing up blood. I dropped out of school and never went back. I had a chance to go to college on a scholarship and he took that away from me.

Today I am 32, and dealing with all my nightmares. I wish I had done this sooner. To talk and write about it. It clears a big piece of me clean. It makes me feel that I was not wrong. I was a kid. They were supposed to be my protectors. Now I know that I will not pass that to my own kids. I want to be able to let go of what happened to me in the past and live a happy life. I want to be free.

Subscribe to Darlene Barriere's healing blog:

My goal is to inspire you, challenge your thoughts, and break open your heart. Your Self already knows you're remarkable and that the world needs you, more now than ever. It's time you know it and believe it too.
Healing the Body, Mind and Spirit
<< back
---
References
NOTE: Information pages on this site were based on material from the

Canadian Red Cross RespectED Training Program. Written permission was obtained to use their copyrighted material on this site.
Back to Child Abuse Effects Homepage from Child Abuse Story from Barbara
Child abuse story from Barbara was re-formatted April 8, 2014