Internet Sex Offenders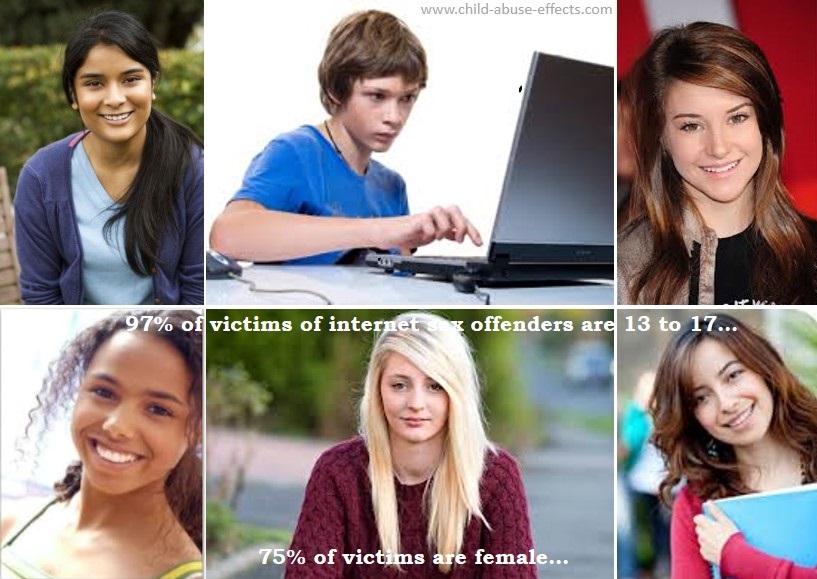 Internet sex offenders typically start exploiting in a very non-threatening way, "luring" children and youth to reveal personal details about themselves and family members. Internet offenders are definitely on the rise.
Most internet-initiated sex crimes are non-forcible crimes committed by men who are much older than their victims.

It is inaccurate to characterize Internet offenders as "strangers" because in most cases they have communicated extensively with victims, both online and offline before ever meeting face-to-face.

Offenders often give gifts to victims, like jewellery, teddy bears, clothing, smartphones, digital cameras, anything that young people would enjoy having.



Statistics for Internet Sex Offenders

| | |
| --- | --- |
| | A random national sample of 2574 law enforcement agencies found the following results concerning sexual offenses against juvenile victims that originated with online encounters (Wolak et al., 20041; Internet-initiated Sex Crimes against Minors: Implications for Prevention Based on Findings from a National Study 2004): |
99% of victims are age 13 to 17
76% of victims are age 13 to 15; 1% age 12; none under 12
75% of victims are girls
99% of Internet sex offenders are male
76% of first encounters between offenders and victims happen in chat rooms
The majority of offenders do not use force or coercion to sexually abuse their victims
Victims typically know of the sexual intentions of the offender when they agree to meet
Victims usually know that the offender is an older adult and is interested in a sexual relationship
Only 5% of Internet sex offenders represent themselves online as peers of victims, claiming to be 17 or younger
74% of cases involve face-to-face meetings
Offenders use online and offline means to establish romantic or close relationships before meeting their victims face-to-face:

» 79% include telephone conversations
» 48% send pictures online to victims
» 47% send or offer gifts or money
Half of all internet offenders and victims who meet face-to-face live within 50 miles (80 km) of each other
40% of cases involve victims or offenders who cross state or international borders to meet for the first time
39% of first face-to-face meetings occur in the offender's home; 13% in hotels or motels
83% of victims who meet offenders face-to-face willingly go somewhere with them (riding in offender's car to the offender's home or a hotel, mall, movie or restaurant)
41% of victims spend at least one night with the offender
73% of victims meet offenders more than once
20% of victims live with offenders for some period
93% of face-to-face meetings entail illegal sexual contact, including sexual intercourse, oral sex, or other form of penetrative sex with victims
| | |
| --- | --- |
| | A U.S. study surveying a nationally representative sample of 1,501 children/youth aged 10-17 who regularly use the Internet found the following results regarding sexual solicitations and exposure to sexual materials (Finkelhor et al., 20002; Crimes Against Children Research Centre, 2002): |
19% of the children/youth surveyed reported being approached for sex through Internet media at least once a year; 1 in 7 of these children reported that the Internet sex offenders also attempted to contact them by telephone or by mail


24% of all solicitations and 34% of all aggressive solicitations were made by adults aged 18 and older.


25% of all aggressive solicitations were made by females


Chat Rooms were the medium for two-thirds of the solicitations, and 24% came through Instant Messaging
Internet Guidelines for Parents
Though there are several international agencies working toward protecting children and youth from Internet sex offenders, it is ultimately the responsibility of the parents to protect their children. Some guidelines for parents:
| | |
| --- | --- |
| | Learn how the Internet works and what the dangers are. |
| | |
| --- | --- |
| | Keep the computer in the family room, not-the-more-private child's bedroom. |
| | |
| --- | --- |
| | Discuss safety issues with your child and use filtering software if necessary. |
| | |
| --- | --- |
| | Ensure that children never reveal personal and private information about themselves or family members. |
| | |
| --- | --- |
| | Never let children meet an online new friend without accompanying them. |
| | |
| --- | --- |
| | Know where and to whom you can report any questionable or suspicious activity. |
<< Back to Sex Offenders
---
References
NOTE: Information pages on this site were based on material from the

Canadian Red Cross RespectED Training Program. Written permission was obtained to use their copyrighted material on this site.
Internet Sex Offenders
1 Wolak, J., Finkelhor, D., Mitchell, K. (2004) Internet-initiated Sex Crimes against Minors: Implications for Prevention Based on Findings from a National Study. Funded by the National Center for Missing & Exploited Children and by the U.S. Department of Justice, Office of Juvenile and Delinquency Prevention.
2 Finkelhor, D., Mitchell, K., & Wolak, J. (2000, June). Online victimization: A report on the nation's youth. Alexandria, VA.: National Center for Missing and Exploited Children.
Back to Homepage
Internet Sex Offenders updated Feb 22, 2017